Working with archaeologists to reproduce the old Dubai Jumeirah plaster
Site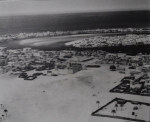 Old Dubai
In the 10th century and in the 17th century, Jumeirah in Dubai, United Arab Emirates, was a caravan station along a trade route linking Iraq to northern Oman.
The site has been re-discovered and is now being studied by archaeologists of the Government of Dubai.
Analysis
The archaeologist did not know what the old mortars were made of. Plâtre.com did a full analysis in order to replicate the original product.
Chemical analysis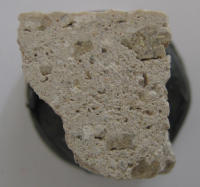 Sample, ready for analysis
The chemical analysis gave the following results :
| | |
| --- | --- |
| Sulphates (pure Gypsum) : | 72% |
| Calcium carbonates : | 18% |
| Non soluble parts : | 10% |
These results show that this is a gypsum based mortar, but don't explain where the carbonates come from.
To have more details on this, a Scanning Electron Microscopy - SEM - was used.
SEM (Scanning Electron Microscopy) analysis
Below are the pictures of the scanning showing different scales.
In these pictures, you can see the gypsum matrix, the carbonate parts (darker ones), and a clay part (round gray one).
In the gypsum matrix, we can clearly see some celestine crystals (strontium sulphate crystals). Celestine crystal are a well know marker, so searched for it in the other parts (carbonate & clay).
In the carbonate part, as well as in the clay part we found the same celestine crystals. They appear as the white dots on the pictures (a bit hard to see on the lower scale images).
This show that the three main chemical elements come from the same geological origin. In conclusion those old plasters were made from a raw gypsum that had some impurities and was directly cooked.
It's worth noting that the cooking technique used was quite clean as this plaster does not contain almost any charcoal pieces.
Counter-typing (reproduction process)
Having the composition of the plaster, we created a product having the exact same composition and matching the aesthetic of the product.
Below you can see side by side the original Jumeirah plaster from the 17th century and the new product (D4553), ready to use on the old Dubai heritage buildings.
A presentation on this project was given at the Global Gypsum 2008 conference held in Dubai. You can download a copy of the slides of the presentation below.
Thank you for the help and support from
Mr Salem Belobaida, Government of Dubai, Director of the Archeology Section
Dr Hussein Suleiman Qandil, Government of Dubai, Archeology Jumeirah, Chief Archeologist
Mr Ahmed Fawaz Ibrahim, Government of Dubai, Archeology Jumeirah, Laboratory Technician
Mr Hassan Zein, Government of Dubai, Archeology Jumeirah, Senior Archaeology Technician