Ponçage (~sanding/papering)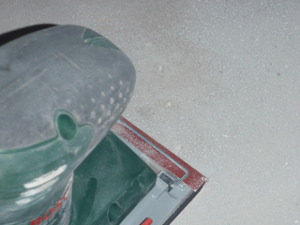 Description
The ponçage - or finition poncée – (sandpapering or sanded finish) gives a flat surface with an open texture looking like a softened stone, that is very easy to maintain.
It is especially used for fake stone renders, after digging out and refilling of the white joints.
Wait for complete drying, before sandpapering. Use a sander or, for small surfaces or maintenance, a sanding block, equipped with rather coarse sandpaper and a vacuum dust removal.
Check if the surface is flat with a ruler. If unevenness remains, sand again, until uniform result.
Check that the all surface has been sanded and is uniform.
Any time, including several years later, sanding again is always possible for maintenance or aesthetic reasons.
Tips
Choose a sandpaper that is not too fine.
Depending whether the sanding is done after a coupage (cutting), a grattage (scrapping) or a lissage (smoothing), the end-result is very different.
If the surfaces are very uneven after coating, use first a very coarse sandpaper (size 40).
For a perfect dust removal, use compressed air.
Tools
Sander, preferably orbital, or sanding block.
Glasspaper, rather coarse (size 80 to 120)
Industrial vacuum
If necessary, compressed air