Company introduction
Welcome on the press info page of www.platre.co, the website of Plâtres Vieujot
Plâtres Vieujot is a company specialized in consulting and the manufacture of stucs and coatings. It is one of the rare companies to still work with forgotten materials, and to prepare counterparts of old traditional mortars to reproduce in an identical manner or to create custom works.
We have more than 3500 customers among whom the French Ministry for Culture, the LVMH group (Louis Vuitton-Moet Hennessy), the Bank of France, the SNCF ( National Railways Company),…, architects, small and medium businesses, and private customers, as well as some prestigious achievements such as the Louvre Museum, the Quay Branly Museum , the Place of the Vosges, the Louis Vuitton Fondation, the Philharmonique de Paris, the Versailles castle, ...
We are full of ideas for articles on plasters, limes, clays, cut stones or stucs as well as for decoration and restoration: do not hesitate to contact us.
Article
"News application for sprayed gypsum plaster in high-specification projects" - Global Gypsum Magazine - Mai 2007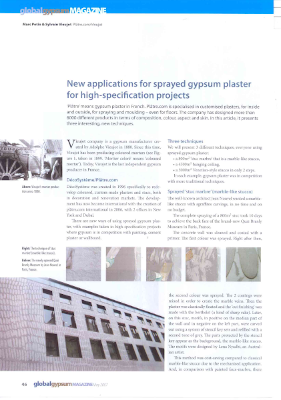 Article in Global Gypsum Magazine 2007.pdf
492.1 Kb

For further press information, please contact : presse@vieujot.com